Mental Health Week Event Program
Minds Do Matter – Launceston
Minds Do Matter is an annual, statewide community art exhibition celebrating Mental Health Week in Tasmania.
Minds Do Matter explores the relationship between art and well-being by celebrating art's power to be life-enhancing and life-affirming.
In 2022 Minds Do Matter has over 235 entries addressing the theme of COURAGE!
Plan a road trip and if you can get along to all three exhibitions!
https://www.rantarts.com/mdm-launceston-2022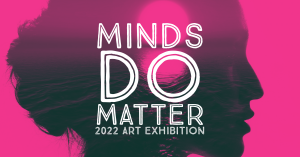 Learn More

about theMinds Do Matter – Launceston event