Mental Health Week Event Program
Festival of Wellbeing
A celebration of all things wellbeing, our theme is Wellbeing Conversations. It all starts with a conversation.
Come and find out what we do well in our community to support and improve our wellbeing, so that together we can do more of it.
Let's celebrate what we love about living here in Break O'Day and discover new ways to look after ourselves and each other.
Let's be curious, have fun, talk about wellbeing, share stories and make new connections!
Join in conversations with each other and with organisations, businesses and community groups, who want to share the ways they support wellbeing. Try something new. Join in activities that you can add to your life to increase your own personal wellbeing, or maybe you can pass on and tell others about.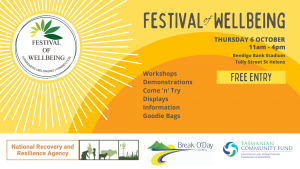 Learn More

about theFestival of Wellbeing event
Finding the Wealth in your Mental Health
Say it loud and say it proud: There is wealth in your mental health!
At Bucaan we believe that a healthy body starts at the top – our state of mind!
Join us as we discover what mental health is all about, why it's important, and how we can connect to people and services to build upon mental stability and balance.
For more information, call 03 6249 5363
Learn More

about theFinding the Wealth in your Mental Health event
Wellways Community Dog Walk
Join us this Mental Health Week for our third annual Dog Walk. A BBQ will follow our gentle walk. Let's celebrate our four legged friends and the support and unconditional love they bestow on us every day.
The Mental Health Week theme this year is Awareness, Belonging, Connection. This is a free event supporting the mental health of all Tasmanians. You do not need a dog to join us.
Registration is essential – via the button below or by registering on the day. Please RSVP for catering purposes on 6169 0600 or email [email protected] by Friday 7 October telling us how many will attend and any specific dietary requirements.
Learn More

about theWellways Community Dog Walk event